Jiangxi Ganzhou 6000t/d cement production line
2022-03-23 20:15:05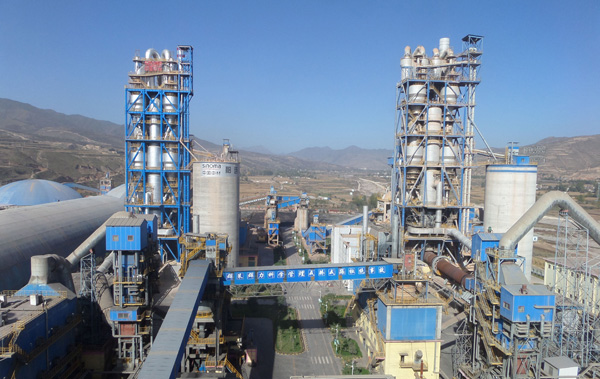 【Processing Materials】:Limestone, Clay, Iron Ore Powder.

【Production Capacity】:6000t/d.

【Device Configuration】:Raw material grinding, rotary kiln, industrial drying machine, jaw crusher, cooling machine, wind - swept coal mill, dust removal equipment, centralized control, etc...

The Jiangxi Ganzhou 6000t/d cement production line is a kind of process mainly used for small, medium and large-scale cement plants. Its preheater employs outside kiln precalciner. Capable of utilizing the waste heat from kiln inlet to decompose raw meal, this line is good at saving electricity and heat. Its closed production line makes it possible to reduce its ambient dust pollution to less than 50mg/nm3. Besides, its capacity to make use waste heat makes it quite cost efficient for users.

Description of Jiangxi Ganzhou 6000t/d cement production line: Here in Jiangsu Lvsen Cement, we offer one-stop service for you, including designing, building, suitable equipment providing, installing and debugging, technical serving, and overall contracting. And we have successfully finished the construction of cement production lines of 7200t/d, 6000t/d, 4500t/d, 2500t/d, 2000t/d, and 600t/d.

Production Flow of Jiangxi Ganzhou 6000t/d cement production line: 1. Crushing and Pre-homogenizing: Most of the raw materials, like limestone, clay, iron ores, and coal, should be crushed before their pre-homogenization. Limestone is the primary material in this line, and due to its large particle size and high hardness, its good crushing plays an important role in the whole line. Special stacking and reclaiming technology has been used in the pre-homogenizing process so that raw materials can be better primarily homogenized.

2. Raw Meal Preparing: Since the raw meal grinding work takes up more than 30% labor force in the whole dry process cement production line, it is quite important to choose appropriate grinding equipment and technological process so that high-quality products can be obtained.

3. Raw Meal Homogenizing: The raw meal homogenization is a key factor for stable clinker calcination.

4. Preheating and Decomposing: The preheater is used to preheat as well as decompose raw meal. So the length of the rotary kiln is effectively shortened. And the raw meal can fully exchange heat with the hot gases from the kiln. Because of its rapid and high-efficiency heat transfer, the production efficiency and heat consumption of this production line are greatly improved.

5. Cement Calcining: After its preheating and pre-decomposing, the raw meal will be calcined in the rotary kiln, where the generated carbonate will be further decomposed. Meanwhile, a series of solid phase reactions will take place.

6. Cement Grinding: As the last process, the cement grinding will consume a great deal of electricity. And in this process, special size granule cement will be obtained.

7. Cement Packaging: The cement can be transported in bulk or in bags. As a professional manufacturer and supplier of Jiangxi Ganzhou 6000t/d cement production line in China, Jiangsu Lvsen Cement can also provide you with various other machines, such as 7200 t/d cement processing line, 4800 t/d dry process cement plant, cement grinding plant, industrial kiln and furnace, grinding equipment, crushing equipment, environmental protection equipment, cooling equipment, drying equipment, compound fertilizer equipment, packing machine, chemical equipment and electrical control system. Most of our products have passed the certification of ISO9000 and CE, and they have been quite popular among customers from as many as 60 countries and districts such as Germany, Russia, Brazil, Egypt, Iran, Japan, South Korea, Bengal, Pakistan, Turkey, Burma, Vietnam, South Africa, Columbia, Bolivia, etc. If you need Jiangxi Ganzhou 6000t/d cement production line, please don't hesitate to contact us.